This week we zipped through The Blue Mountains with Georgian Trail E-Bike Rentals to see the reds, oranges, and yellows of Fall up close.

The journey started just a few minutes from the Blue Mountain Village off of Highway 26, where we seamlessly picked up our e-bikes and got ready to ride. We chose to take Grey Road 21 into the Village, and were immediately greeted by the stunning Fall colours painting the mountainscape. Of course we had to stop and take photos of the mountains before continuing our journey!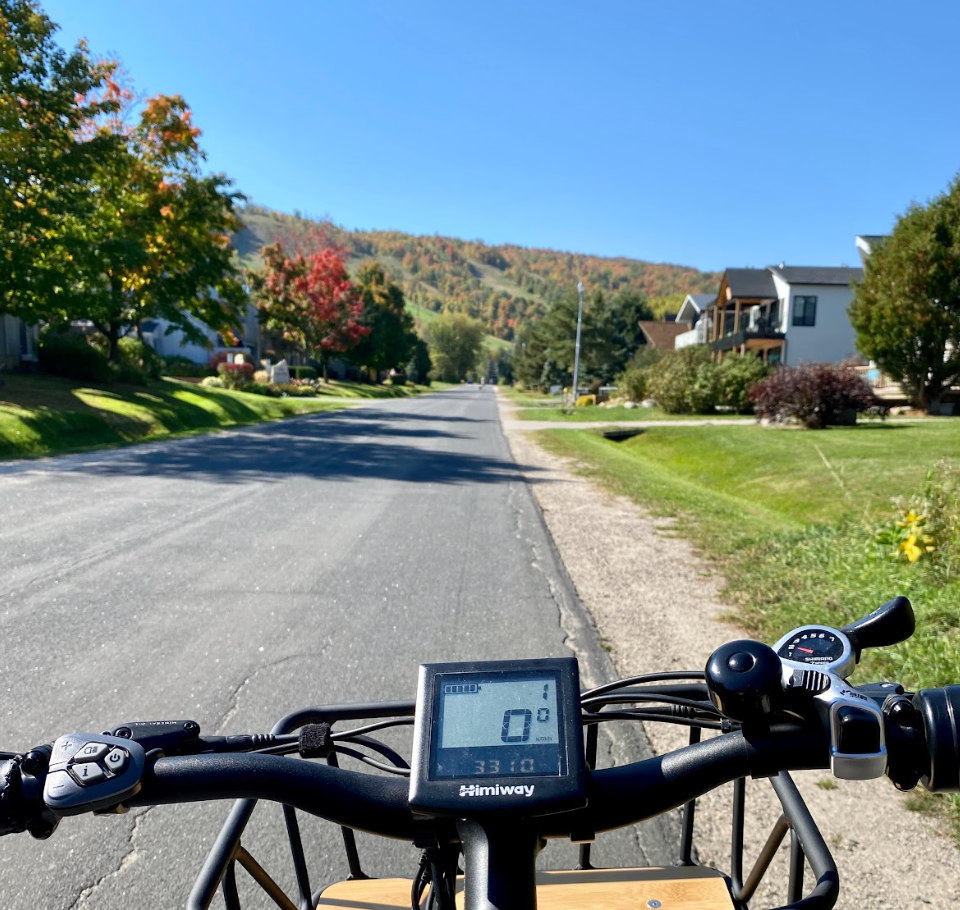 Moving along, we cruised through the neighbourhoods of Blue and enjoyed the warmth of the sun on this especially warm October day. We chose to bike using the assisted pedal, but you can also use the E-Bikes with your own power, or even go pedal-free and let the bikes do the work. We definitely took advantage of that on the ride back!

After cruising by the beautiful mountain homes (including many of our vacation rentals), we went closer to the main part of the Village. Even in this cooler season, things aren't slowing down at Blue Mountain! There are still a lot of open activities to explore in the Fall season.

One of the activities to note is the Apple Pie Trail around Georgian Bay. This self-guided tour allows you to discover the best culinary, drink, and outdoor experiences that the area has to offer. Georgian Trail E-Bikes are a wonderful way to experience this trail in style, complete with the newly added front baskets at the Blue Mountain pickup location! You can pick up local goodies as you cruise and store them in your basket - how convenient!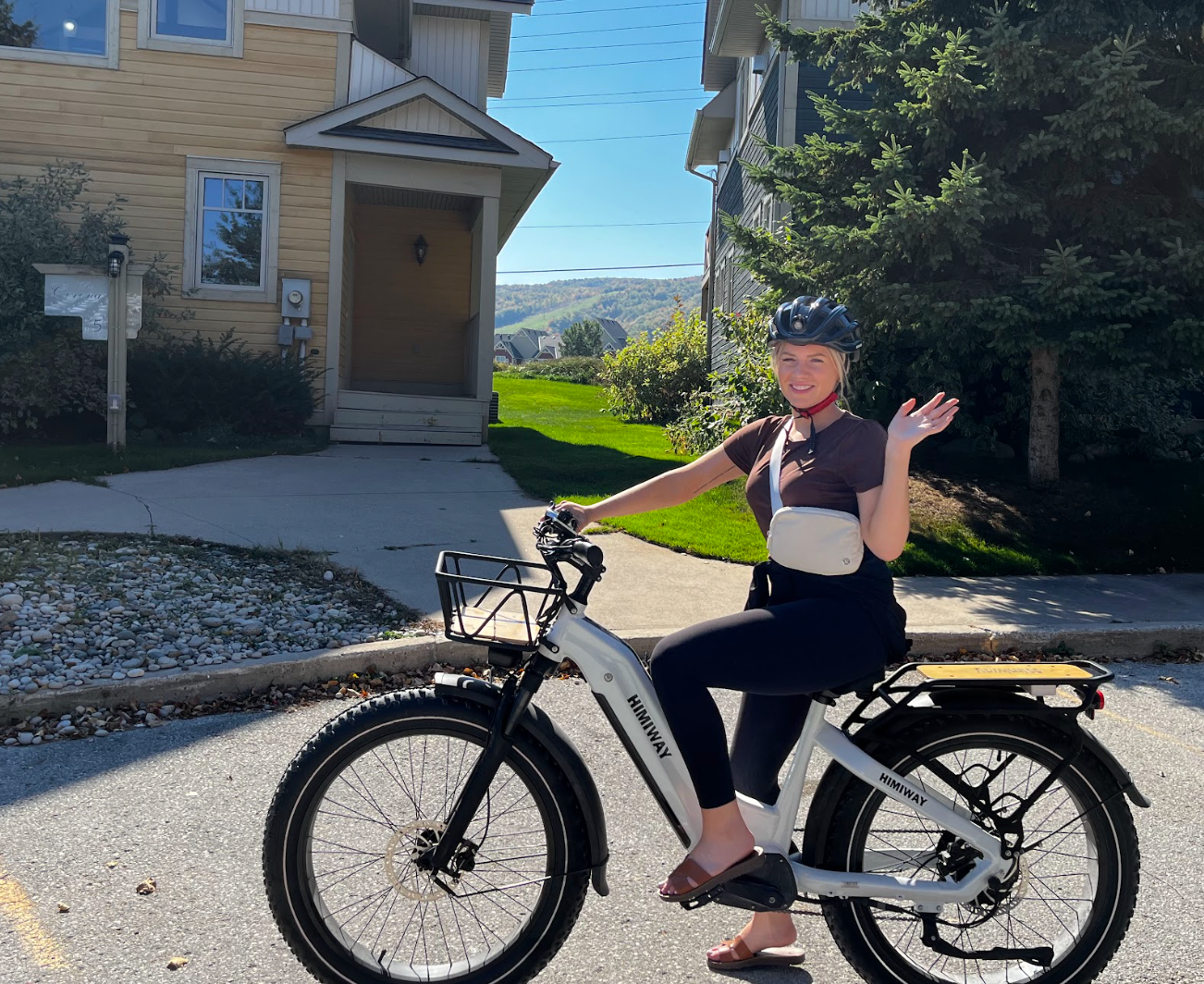 After about an hour of zipping around the mountain, we headed back to the e-bike hut. You might want to note that Grey Road 19 is an excellent route to take on your way back as it's all downhill. We made it back from the village within about 10 minutes cruising at the top speed of 32km/h. The drop off process was really efficient too, and all you have to do is lock the bike back up using your provided code.
All in all, we had a really fun afternoon with our Georgian Trail E-Bikes. Not only did we get a nice workout in on what was probably one of the last warm days of the year, but we also got to see the trees of Blue Mountain change colours up close. Whether you're an experienced cyclist or a beginner like myself, you'll definitely want to check out these e-bikes before the season ends at the end of November. There's still plenty of dry, sunny days ahead for you to enjoy a day with Georgian Trail E-Bike Rentals!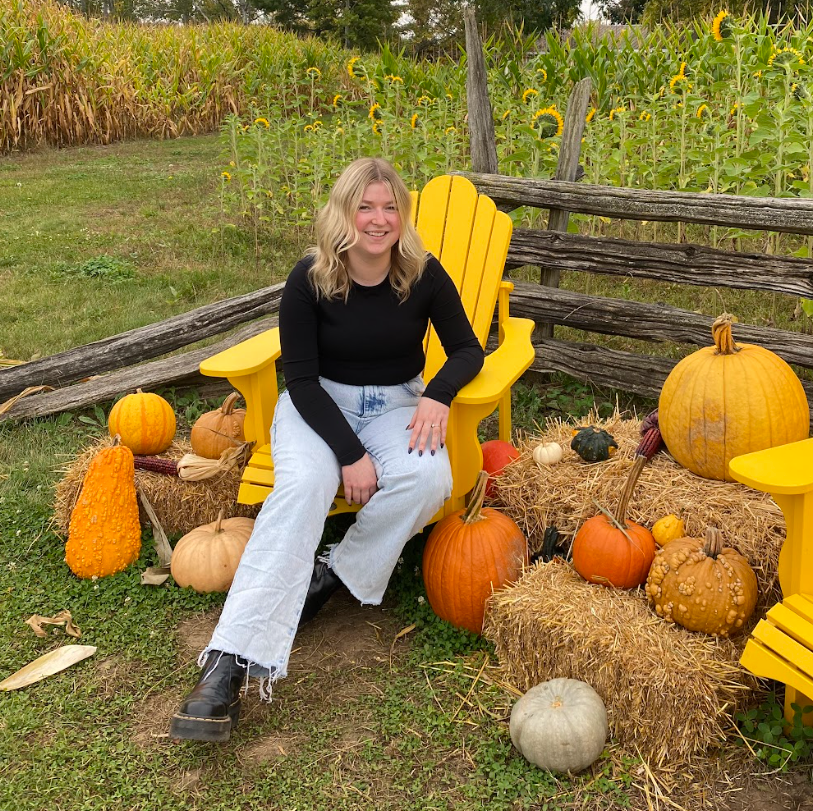 Marketing Coordinator
Emily Shone is a graduate of Advertising and Marketing Communications at Georgian College and an enthusiastic new marketer. She specializes in social media content creation and graphic design, and is Property Valet's Marketing Coordinator. She also has 5 years of experience as a barista, and her favourite drink is an iced flat white with oat milk and caramel. In her free time she is the mother of a needy tortoiseshell cat and is a mac and cheese connoisseur.